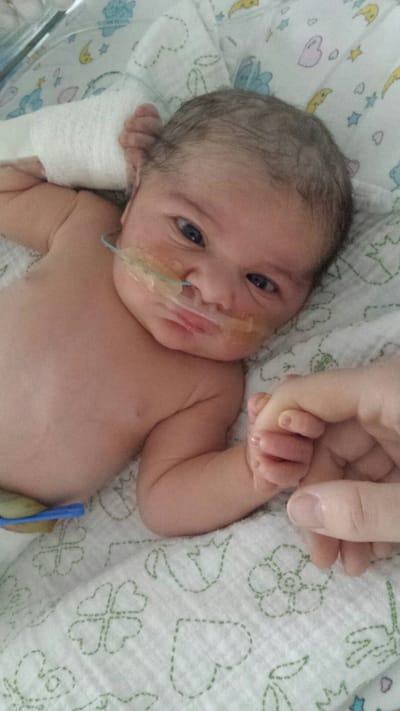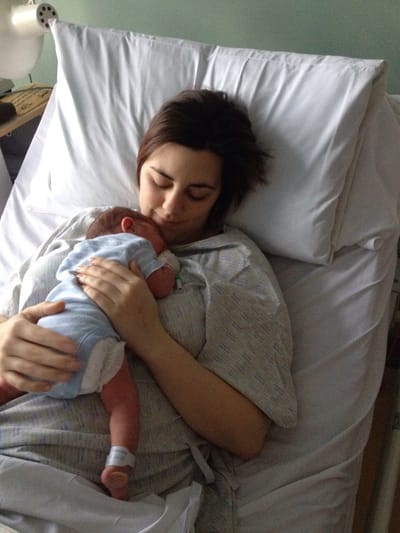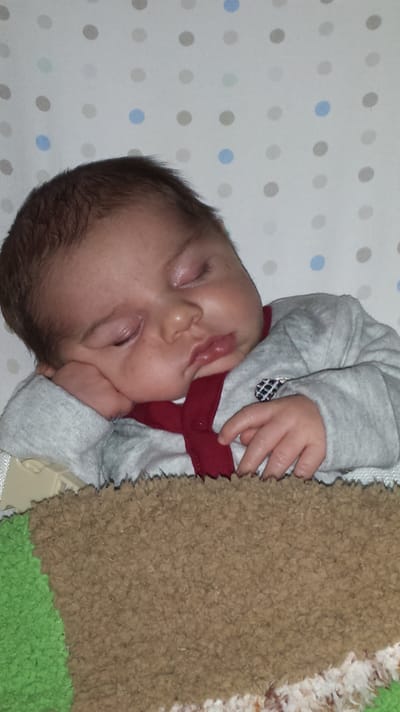 I originally heard about Hypnobirthing through mutual friends of my instructor. I went along to the taster session to find out more, where surprisingly to me, my partner took to it in an enthusiastic way!

We planned a home water birth, but as our pregnancy ticked past our 'due date', we faced some hurdles. We were adamant not to be induced as we were confident our baby would know what to do instinctively; I was '42 weeks' (on the GP estimate) when I went into labour. We accepted the option of daily monitoring to ensure all was well due to how far along we were in our pregnancy and attended on the two days before I went into labour, which in the midwives words was "textbook". There was no reason in our eyes to jolly him along given he was found to be happy and well.

I started feeling strong, regular surges at around 1pm on the Tuesday afternoon and started listening to the Wise Hippo MP3s. My partner arrived home from work at 2.30pm when it was obvious to him that I was in labour! We called the hospital to let them know. I'm guessing it was not as obvious to the midwife as it was to us due to my being calm and relaxed on the phone. I declined to go to the hospital for monitoring as I did not want to risk missing out on our home birth.

The midwife and student (who we got to know fairly well) arrived at around 4.30pm at our home. The student had attended a training session with our Wise Hippo instructor previously so had taken everything on board, respecting all of my choices and decisions (even referring to the contractions as surges). It appeared I was having extremely strong surges very close together and my baby's heart rate was remaining at 180, this was not changing with the surges so the midwife expressed her concern to my partner (without instilling any panic it has to be said). I worked through the "BRAINS" tool that I'd learned, and decided that hospital would be the best thing if it meant having a happy healthy baby, be it at home or not. The fact that it was ultimately my decision helped me to remain calm. When the ambulance arrived the midwife was very diplomatic about getting me there as quickly as possible when asked if she felt they should put the blue lights on.

So far I had no pain relief, I was not offered any as I did not request it – this was part of my birth plan as I felt I would know if I felt the need. I continued with my breathing through surges and picturing my calm, relaxing place. Due to the extremely bumpy ambulance ride, it was extremely difficult for me to get into a comfortable position, so I did have some gas and air, but this was my decision. I think the paramedic was surprised I could still crack a joke too.

Once at the hospital, I agreed to be monitored before being given all the information to make a decision as to what to do. I still expressed my wish for a water birth at this stage. My baby was still appearing to be in some distress, so I agreed for them to break my waters (I was 4cm dilated at this point). I was told that they appeared to be infected with meconium, so due to concerns for my baby, I agreed to an emergency caesarean.

I still remained calm about the situation, because I knew it was in my baby's best interest and that I had ultimately made the right decisions. I expressed to the paediatrician that skin to skin contact was very important to me and he agreed that if all was well he would, of course, honour this.

Jack Dexter was finally born at 10.18pm on 10 February 2015 weighing 8lb 3 ½oz. They took him to intensive care as he needed help to breathe for a short time – actually a good thing as otherwise he would have taken in more of the infected fluid into his lungs.

I was able to see him at midnight for the first time, a slightly strange feeling given I did not feel I had "given birth" to him. NICU were wonderful, they constantly kept me fully informed and even gave me cloth dolls – one to keep in my top and the other in Jack's incubator, so I was reassured he had my scent with him. This really helped me to bond further with him as I was on another ward. They helped me with expressing milk, when I was able to transfer to a wheelchair later on that afternoon, I took some to him and they helped me with breast feeding – the first time I was able to hold him. He was a natural, I was so proud.

After 2 days in intensive care, Jack was well enough to stay in a cot in my room, although still under NICU care. Due to complications from my epidural, I had to lay completely flat for a couple of days. It was difficult for me to see midwives changing my baby, but they were very good in that I did not feel like they were taking away any "control". They were very reassuring. Breast feeding was becoming more difficult but I used breathing techniques through it as I knew it was in his best interest, especially being that he was poorly, and it was one thing I always said I would never give up on.

On the Sunday it was time for home. It was an emotional moment knowing we were walking away as a family. Jack still continues to thrive; he is very calm and content. He have faced some hurdles together, but he takes it all in his stride. We have an extremely close relationship.

The Wise Hippo Birthing Programme made me more aware of what our choices were so I felt more in control, had I have not felt like this, it could have been a very traumatic experience. I sometimes question what was it that happened so quickly to change everything, but actually, that's irrelevant. The right choices were made and I have a happy, healthy and strong little boy.